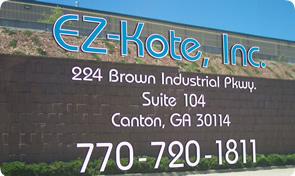 Thanks for visiting our website. EZ-Kote, Inc. is a privately held corporation based in Canton, Georgia. Our customers in the rubber, urethane and composite industry turn to us for superior semi-permanent water-based mold release agents.
Be it a standard product or a custom formulation, we are committed to helping you make informed decisions about how our environmentally friendly, water-based mold release agents can benefit your productivity and improve the work environment for your employees.
Why choose EZ-Kote? We value our customer relationships, earning respect and trust through consistently dependable performance. Our objective has always been to provide our customers with superior products, service, and hands-on technical support that ensures loyalty. We have earned a reputation for excellence; we intend to keep it by deserving the confidence of our customers.
Click below to learn a little more about how are products can benefit your company.